Central Europe Connect – A program connecting Vienna, Bratislava, and Warsaw
Central Europe Connect (CEC) is a Joint Certificate Program offered in cooperation by WU Vienna, EUBA Bratislava and SGH Warsaw. In the course of a semester, students spend one course week in each of the cities of the participating universities. During the program, participants acquire academic skills, engage with the economic region of Central Europe, and take advantage of the program's networking character.
 In an interview, we asked participating bachelor's students from all universities what they thought of the CEC program and what they liked most about it.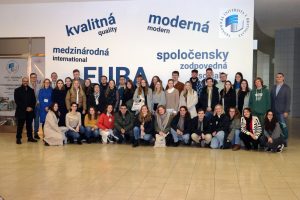 WU Blog: What was it like to study at three different universities in just one semester?
 Magda (SGH Warsaw): Taking part in the CEC program was both: a fun as well as a somewhat challenging experience. The well-structured classes allowed me to understand the past and present economic situation of the CEE region. I made new international friends who made getting to know other European universities and their cultures an exciting experience.
Lucie (EUBA Bratislava): It was a great to see what studying at WU Vienna and SGH Warsaw is like. Now, I can better evaluate courses at my own university. I liked the company visits and our joint dinners a lot. It felt good to share one's own culture and show it to international friends.
Laura (WU Vienna): Studying at three different universities in just one semester was a unique experience. From an academic point of view, it was stimulating to learn about topics from different perspectives. Coming from WU Vienna, it felt new to me to learn about Eastern Europe and its economic background in such great detail.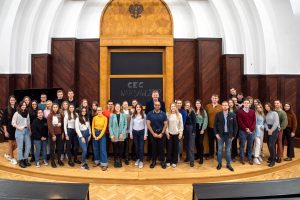 WU Blog: What did you like most about the CEC program?
 Robert (WU Vienna): Academically, I liked to get an insight on how other countries in the CEE region deal with economic issues and how they strive to catch up economically. Getting a glimpse of different cultures was my highlight though.
Lucie (EUBA Bratislava): Some might think that it is "only" three weeks and nothing serious, but in fact, CEC was intense and we were connected with other CEC students all semester. I am glad about the experience. It felt like a mini Erasmus with many options to exchange ideas.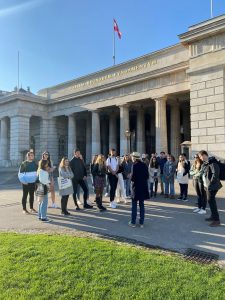 WU Blog: How was it working with students from three different cities?
 Robert (WU Vienna): To understand how students study in different countries was a breath of fresh air. It was an enriching experience to work on group projects with like-minded people.
Lucie (EUBA Bratislava): Working in international teams showed me how to be tolerant, that everyone is better in something else, and that everyone contributes differently. I learned that we come from different countries, but all have something in common. First, I was a bit scared of how I would perform, but now I know that the effort was really worth it.
Laura (WU Vienna): From a social point of view, it was incredible to experience how our CEC cohort grew to become a stronger community each week and how we got to know each other better. Therefore, the experience was truly created by the students.

Here is what you need to know about Central Europe Connect (CEC)
 CEC consists of three thematic course weeks: "Strategies and Management for Central Europe" (WU), "Structural Dynamics in Central European Economies" (EUBA) and "Marketing Resources and Consumer Behavior in Central Europe" (SGH). The course modules are complemented by company visits and guest lectures by industry experts.
CEC is a special track within the SBWL International Business. Students can apply for the specialization through the regular application process. Click here for more details.
We look forward to welcoming you to CEC!
Key facts – Central Europe Connect:
Special track within SBWL International Business
Graduation with a joint certificate from WU, EUBA and SGH
Application: During the regular application for the SBWL IB
Joint short-term study program complemented by practical and cultural activities