Vienna Innovation Program WU 2022: Shaping innovations strategically and entrepreneurially
The Vienna Innovation ProgramWU 2022 took place in May and inspired selected participants. For two weeks, WU master's students worked together with international students from partner institutions on topics related to innovation management and organizational development. The program focused on how innovation and innovation processes can be stimulated and managed. In addition to the excellent academic program, participants had the opportunity to get to know each other and network during the social and intercultural program.
Prof. Christopher Lettl, Director of the Institute for Strategy, Technology and Organization, led the academic program together with his team: Alessio Delpero, MBA, PhD and Carola Wandres, M.Sc.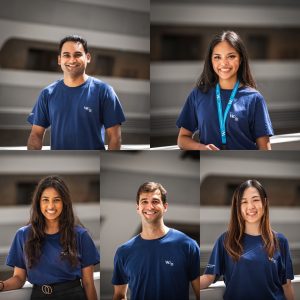 WU Blog: The Vienna Innovation ProgramWU combines academic expertise with project work and practical experience. What motivated you to participate in the program? What were your personal highlights?
Chamali Raigama (University of Texas at Austin): This experience was going to be my first time living and studying abroad in a foreign country. When exploring my options, I wanted to be in a program that focused on challenging innovation topics while pushing me to interact with peers from all around the world. My personal highlights were the class discussions, social activities, and genuine friendships. This has truly been a once in a lifetime experience!
Frances Pahati (York University): I wanted to participate in the Vienna Innovation Program because I wanted to learn more about exploring new markets and how to successfully launch innovation. The course taught me what made certain innovations successful and gave me different tools to spark creative thinking in the future. For me, the highlight of the course was working on the group project as it allowed me to use many of the techniques we learned in class while collaborating with other bright students.
WU Blog: During the course weeks, you worked in international teams and exchanged ideas during social activities. How did you benefit from the networking character of the program?
Neela Rahakrishnan (University of Chicago): Working with international teams and exchanging ideas, I gained a deeper understanding of myself and those around me: I deepened my knowledge of foreign cultures and strengthened international relationships. Further, I benefitted from honing my adaptable leadership skills by navigating various cultural and work dynamics with the best brains from all over the world.
Mia Liao (University of British Columbia): The social activities added tremendous value to this program. By attending social events, such as the day trip to Salzburg, the international cultural evening, and the opera performance, we have built strong bonds and relationships with our fellow students outside of the classroom setting.
Caleb Waitsman (University of Texas at Austin): The networking side of things is a differentiator for this program. Building friendships and professional relationships with future business leaders from around the world is difficult to coordinate, but WU has succeeded in building the right environment to foster that network growth. I came in with the mindset of wanting to expand my professional network, but I am walking away with friends that I plan to see in future years whether or not it benefits my career.
---
In the following, we asked the academic team of the program consisting of Prof. Christopher Lettl, Alessio Delpero, MBA, PhD and Carola Wandres, M.Sc.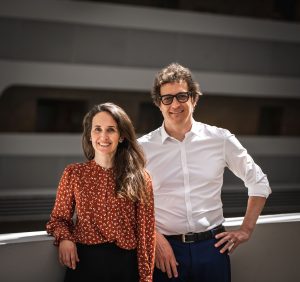 WU Blog: Due to current global and societal developments, it is essential for companies to be innovative. The Vienna Innovation ProgramWU looks at innovation from different perspectives and shows how innovation processes can be used inside and outside of companies. Which benefit does the program offer participants for their professional or academic careers?
Academic team: Participants have the opportunity to critically discuss real life cases where concepts such as ambidexterity, open and lead user innovation, innovation ecosystems, and sustainability innovation have been successfully (or unsuccessfully) applied.
The students understand that there is no one size fits all solution to tackle management of innovation, but they learn the advantages and disadvantages of different frameworks and tools. They understand in which situation each framework or tool works best.
Moreover, the international and diverse background of the class offers a great opportunity to network and to exchange perspectives. While having to find the synthesis of different points of view, the students understand how diversity can foster creativity and innovation.
WU Blog: In the context of organizational development, concepts such as adaptability, agility, or design thinking are often mentioned. How do participants of the Vienna Innovation ProgramWU learn to implement these concepts in practice?
Academic team: We structure the program combining theoretical and practical sessions so that students can get their hands "dirty" and find immediate application for what they learn.
The practical part of the program relies on a project developed in collaboration with an external company that faces innovation related challenges. To tackle the project, students work in teams leveraging on the frameworks and tools learned in class.
This year, for example, students had the opportunity to apply agility and design thinking tools to conceptualize and develop innovative digital solutions to foster the usage of electric vehicles in a B2C and B2B context.
WU Blog: What was it like to coordinate the program? Which challenges and highlights did you experience?
Doris Vindl (WU Vienna, program coordinator): For me personally, it was an enriching experience, which enabled me to challenge myself and to grow beyond my expectations. I enjoyed the diverse tasks involved in the organization of the Vienna Innovation Program. This included coordination with faculty as well as contact with partner universities, students and representatives of event locations. My personal highlights were the positive response at social activities and events, and realizing that the organizational effort in advance was worthwhile. Moreover, I established close relationships with students and I am convinced that I will stay in touch with one or the other even after the program is over.
 Stay on top of international topics – It is worth visiting channels of the International Office:
Website / Instagram