Self-Driving Cars and Ruin Bars: The Master Class CEE in Hungary
When speaking about the labor market in Central and Eastern Europe, some people still mainly think about production sites of international car manufacturers, back-office service centers and low-cost labor force. However, the situation has changed tremendously over the past years and has already turned these old prejudices up-side down. We, the Master Class CEE cohort 2017/18, had the opportunity to experience the fast changing, highly innovative labor market in Hungary during our field trip to Budapest and Györ in February 2017.
The Master Class CEE is a complementary study program for WU master and doctoral students with a vivid interest in management topics in the CEE region. This year, 26 selected students from 11 countries and different business backgrounds are participating in the one-year program. Every intake works collectively on a research project, which in our case is focused on the labor market in the CEE region. Therefore, we evaluate current trends and challenges that local and international players are facing in the market. As part of the research project, we had the opportunity to speak with experts during two field trips, of which the first brought us to Budapest.
Innovative Research Centers and High-Tech Production Sites
After kicking-off our trip with an interactive walking tour through winterly Budapest, we started with a visit to the Bosch Engineering Center Budapest, where we not only heard exciting facts on their local HR processes, but also had the opportunity to get first-hand insights into their research on autonomous driving. The second half of this day we spent with the representative of the Austrian Economic Chamber in Budapest, who provided us with fascinating information about the Hungarian labor market and their implications on the Austrian-Hungarian trade relationships. The next day we extended our impressions of the business location Budapest with visits at Siemens' Power & Gas Plant and BlackRock's newly established technology hub. Hearing about problems on the competitive market for skilled labor force, helped us to understand the current situation there and to identify major challenges for the years to come.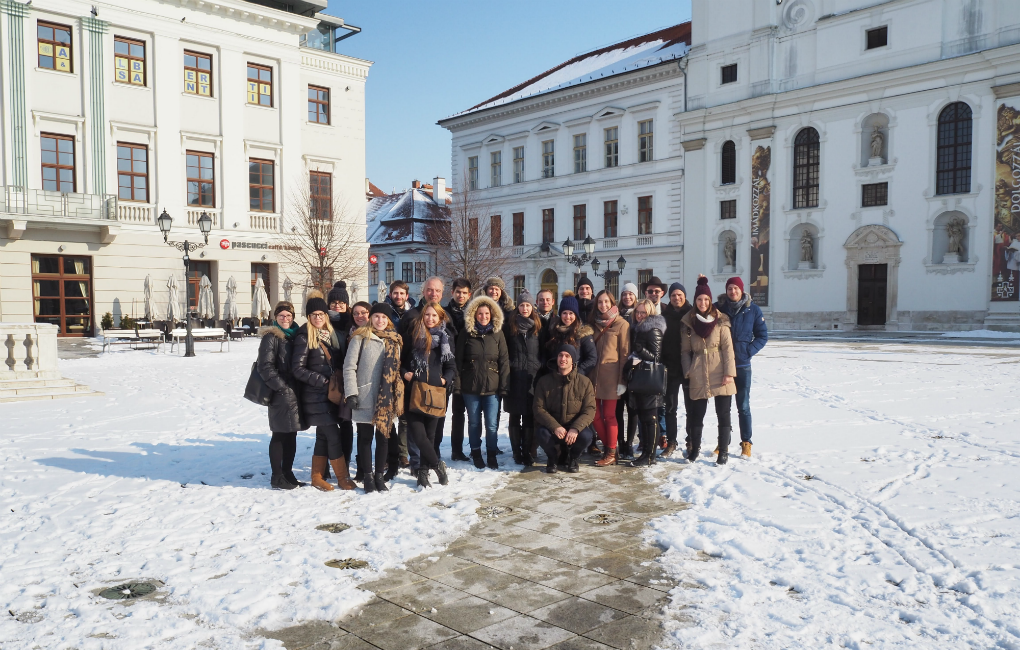 After a delicious farewell dinner at a typical Hungarian restaurant, we unfortunately had to leave towards home already after three nights. On our way back to Vienna we visited Audi's largest engine production site in Györ, that yearly produces over 2 million engines for the Volkswagen corporation. Furthermore, we had the opportunity to see Széchenyi István university and their research hub for autonomous driving. We are very thankful for their warm welcome and their patience to answer us various questions regarding their innovative, self-driving concept cars.
To sum up, we were impressed by the mixture of Budapest's historic flair and the state-of-the-art research and production sites in and around the city. Besides the insights we have gained during our discussion with local managers and representatives, we also had great fun to explore the Hungarian cuisine and the local "Ruin Bars". The trip not only expanded our personal horizon, but also further fostered our great team culture. Working together with people from so many different nationalities and cultures enables us to experience the CEE region in many various aspects. We are already very much looking forward to an exciting second semester in the Master Class CEE and our next field trip, which will then take us to Bulgaria!