Will a Green Carpet Become the New Red Carpet?
As MSc Marketing students of fashion marketing and sustainability at WU Vienna, we explored just how unsustainable the fashion industry really is. However, advancements in both textile innovations and environmental impact campaigns show us that there is hope for a more sustainable future in fashion.
Hard facts about unsustainability in the fashion industry
Generally, many consider the transportation industry as the most severe cause of pollution. Could you imagine a sector that performs even worse? The harsh reality is that the fashion industry is responsible for approximately 2-8% of global greenhouse gas emissions – which is more than the international flight and shipping industries combined.
At the current rate of consumption and disposal, by 2030 it is estimated that there will be around 150 million tons of fashion waste annually (which equates to one garbage truck each second). An industry that employs nearly 300 million people worldwide, there is massive opportunity to improve this unsustainability.
Key learnings from Fashion Marketing and Sustainability at WU
In our master's-level sustainable fashion marketing course, not only did we learn about these harsh realities, but our teacher Dr. Azra Bayraktar also spotlighted various ways both companies and consumers can positively impact the sustainable fashion industry.
Additionally, we had the pleasure of having Harold Weghorst, Global Vice President of Marketing and Branding at Lenzing Group, as a guest speaker during one of our lectures. Lenzing is an Austrian-based company which produces lyocell and modal fibers under their flagship textile brand, TENCEL. With Lyocell and modal fibers being derived naturally from wood, these fibers are biodegradable and can be used to make textiles for the fashion, home, and even automotive industries. Some of the major fashion brands partnering with TENCEL include H&M, Levis, and Patagonia.
Mr. Weghorst helped launch the new brand strategy of TENCEL in 2018, which consequently doubled the brand awareness from 17% to a remarkable 35% in 2021. With a focus on the triple bottom line and a circular business model, Lenzing's sustainable innovations are making strides towards an eco-friendlier industry.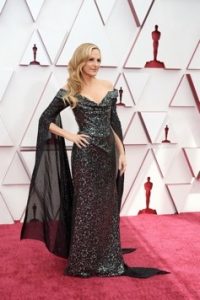 Transforming a greener red carpet at the Oscars: Lenzing's TENCEL collaboration with RCGD
Lenzing focuses on different Sustainable Development Goals to increase the awareness towards the Tencel fabric, one of which is "Partnerships for the Goals". Mr. Weghorst explained that we cannot make a change in the industry ourselves alone, which is one of the reasons why TENCEL collaborated with the NGO Red Carpet Green Dress to create gowns for the Academy Awards (or more commonly known as "the Oscars").
For two years in a row now, TENCEL and RCGD have partnered up to create and show sustainable solutions at one of the world's most well-known red-carpet events. Last year at the 2021 Oscars, presenter Marlee Matlin showcased her eco-couture gown which was designed with TENCEL Luxe fibers. Not only did this collaboration draw attention to the importance of sustainable fashion, but it demonstrated the possibilities of eco-couture. Hopefully, this can be used as inspiration for other designers to create garments as visually appealing as the unsustainable ones, while maintaining additional advantages.
 What impact can we make as consumers of fashion?
Sustainable fashion goes far beyond the red carpet. We as consumers can have one of the largest influences in transforming the sustainable fashion industry. However, we realize that not all fashion consumers know where to start. Therefore, we have listed three easy steps that fashion-lovers can start to take towards sustainability:
Think about consuming more responsibly and consciously. Today's generation buys 3-4 times more than the previous one.
When purchasing, opt for clothing made from biodegradable fabrics such as lyocell, cotton, silk, or wool versus less-sustainable, synthetic alternatives.
Donate, sell, or repurpose unwanted clothing – don't just throw it away! 80% of the clothes we no longer wear end up in landfills.
By taking some of these small steps, together we can have the greatest impact in helping to create a sustainable fashion movement.
About the Authors:
Julianne Schimp is from Boston, Massachusetts and is currently in her second year of WU's MSc Marketing program. Prior to moving to Vienna, she worked full-time at a Fortune 100 retail company in the United States. She hopes to combine her passion for retail and previous experience in the industry with the importance of sustainability.
Giovanni Pontorno is from Milan, Italy and is currently in his second year of Bocconi University and WU's MSc Marketing Double Degree program. Prior to the master's program, he earned a bachelor's degree from the Catholic University in Milan, an exchange program at the State University of New York in the USA and a summer program at the Beijing Language and Culture University in China. He's currently working as Product Manager in a fintech company in Milan.