CEC: One program, three course weeks, three universities
Central Europe Connect (CEC) is a Joint Certificate Program offered in cooperation by WU Vienna, EUBA Bratislava and SGH Warsaw. In the course of a semester, students spend one course week in each of the cities of the participating universities. In the process, participants acquire academic skills, encounter a variety of business topics and get to know the region of Central Europe. In an interview, WU academic directors Prof. Desislava Dikova, Ass.Prof. Arnold Schuh, and CEC program manager Christopher Rindhauser explain what Central Europe Connect (CEC) is all about. The CEC graduates Anastasia Ruban and Selin Beste Yüksel tell how students have received the program in winter semester.
WU Blog: Central Europe Connect is an attractive option as a track within the International Business specialization. IBWL students in particular can benefit from the international character of the program. What makes Central Europe Connect so unique?
Desislava Dikova: It is an opportunity to enhance the students' knowledge and understanding of business peculiarities in three central European countries. In small international teams, students work on different projects with practical implications, benefit from new international friendships, and experience university life in Warsaw, Bratislava and Vienna.
Arnold Schuh: Running a program together with business universities in the geographic neighborhood should be a no-brainer. We learn so much about commonalities and differences in the national economies, business strategies, and consumer behavior in the region we live in. CEC is an eye-opener.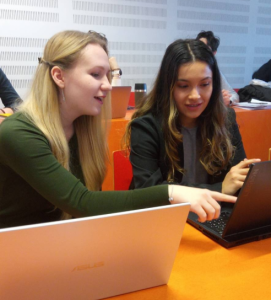 "I especially appreciate the professionalism of the organizers and the high level of teaching quality that is being provided, as well as new acquaintances with students from Austria, Poland and Slovakia. I too appreciate our intercultural exchange and extracurricular activities." – Anastasia Ruban (CEC graduate, EUBA)
WU Blog: This semester, Central Europe Connect could take place on-campus for the most part. How did the participants like the program? What feedback did CEC receive? In accordance with Covid-19 safety measures, the CEC course weeks in Vienna and Warsaw could take place in-person during winter semester 2021/22. Students travelled to partner universities and enjoyed the full CEC experience.
Desislava Dikova: The cross-country, cross-cultural, and cross-university experiences we offer in this program is best delivered in person. Interactions in person were much livelier in class than online. We could all enjoy socialization which works best in person.
Christopher Rindhauser: I also want to highlight that the students appreciated the in-person mode of CEC and the diverse and multifaceted program we offered. Not only having excellent classes, but also organizing social events like a brewery visit or inviting industry experts as guest speakers clearly distinguish this program from a regular SBWL.
"After a long period of not having regular courses on campus, it was a breath of fresh air to have a course week in Vienna, and on top of that have it with people from three universities and different countries […]. The lecture's approach to teaching elevated the experience of learning interesting, new content about Central Europe." – Selin Beste Yüksel (CEC graduate, WU)
WU Blog: Participants encounter business topics and trends from the CEE region and experience a direct exchange with students from EUBA Bratislava and SGH Warsaw. How does the program support their academic development? What added value does it bring for a career after graduation?
Arnold Schuh: With CEC, we continue a long tradition at WU to prepare students for a career in Central and Eastern Europe. Given the closes ties of Austrian companies with CEE, graduates from CEC have a clear advantage when they apply for a job.
Christopher Rindhauser: For me, the unique selling point lies in the design of an international joint program by three universities: students learn how to work with colleagues in a cross-national context and thereby acquire academic skills. Additionally, they also enlarge their international network.
Did you know?
CEC consists of three thematic course weeks: "Strategies and Management for Central Europe" (WU), "Structural Dynamics in Central European Economies" (EUBA) and "Marketing Resources and Consumer Behavior in Central Europe" (SGH). The course modules are complemented by company visits and guest lectures by industry experts.
WU Blog: How can you apply for the winter semester 2022/23?
Christopher Rindhauser: Students can apply within the regular application procedure for the SBWL IB. The application deadline for the next cohort closes on January 30, so don't waste time and sign up! We are looking forward to welcoming you to CEC! The website of the SBWL IB provides detailed information on the application process.
Would you like to learn more about Central Europe Connect?
Central Europe Connect program:
Special track within SBWL International Business
Graduation with a joint certificate from WU, EUBA and SGH
Application: During the regular application for the SBWL IB
Joint short-term study program complemented by practical and cultural activities