"The students have already shown in the summer semester 2020 how flexible and adaptable they are."
Despite travel warnings and restrictions, about 200 exchange students could be welcomed at WU. The International Office has put great effort into communication and advice to give exchange students an optimal and safe start in the winter semester 2020/21. At the Welcome Days, the incoming students were greeted digitally as well as on Campus WU – of course with a safe distance. Student advisor and Welcome Days coordinator Robin Heldt reports for the International Office.
WU Blog: In what form did your Welcome Days take place?
Robin: We decided to offer the two-day event in a hybrid form at the beginning and at the end of September. Beforehand, students could inform themselves about the program, service units at WU and watch interesting videos on our landing page. On the first day of the event, we handled everything digitally via Microsoft teams. In doing so, we could make sure to reach all students – also the ones who spend their semester at WU in distance learning. On the second day, we offered an outdoor campus tour, during which we showed the campus and its buildings. Additionally, we organized a city trip. Everyone kept a safe distance and we were very lucky with the weather.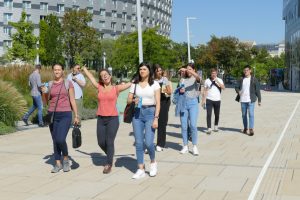 WU Blog: What was it like to offer a digital welcome day?
Robin: To organize a virtual event part was definitely a new experience for us as a team. For me, it was important that the program was diverse and not lengthy. I think we managed to do this quite well with a mix of information, quizzes and external speakers. At this point, I would like to thank WU's Business Language Center, WU's Library, our experts for cross-cultural competence and the ÖH WU for their input. It was a great event and the incomings exchange students gave us great feedback!
WU Blog: What do you expect for the current winter semester?
Robin: The students have already shown in the summer semester 2020 how flexible and adaptable they are. Therefore, we believe that they will master the challenges of the winter semester in the same way. Our team from the International Office wishes all exchange students a good start and good luck for the semester at WU.
Stay safe and healthy!