WU helps – and you can help too!
In these challenging times overshadowed by the corona crisis, WU wants to give back to society and has therefore launched the WU Helps program to support students in need. By purchasing our WU-branded face masks, WU staff, researchers, students, alumni, and everyone who would like to help can make a donation to a special aid fund WU has set up to support students struggling with financial difficulties.
In the past few weeks, the corona crisis has shaken up the Austrian job market, catapulting jobless figures to unprecedented levels. One group that has been hit especially hard by the soaring unemployment rates are students. Many WU students depend on small part-time jobs or marginal employment, and thousands of these jobs have been cut over the last few months. Many of the students affected by these job cuts don't meet the criteria for the government's corona aid measures and therefore don't receive any financial support at all. So what should they do? Will they be forced to drop their studies to be able to make ends meet?
Help for WU students
The WU Rector's Council has addressed and discussed these questions in depth. "We know from our regular student surveys that many of our students have jobs and are working at least some hours per week. But many of these jobs only classify as marginal employment and do not include any unemployment insurance or other social benefits. We have therefore decided to offer financial support to those students who are now left without any income at all," says Rector Edeltraud Hanappi-Egger. The solution: An aid fund for WU students who are facing financial troubles.
What can you do?
This is where WU's staff and faculty, visitors of Campus WU, WU alumni, and of course also WU's students themselves come in: They can purchase the WU-branded face masks that are now available for sale in the WU Shop and online. Anyone who would like to support the project can purchase a face mask in the WU Shop or conveniently order it online. The masks are made of 100% organic cotton, sport an understated WU logo, and are available for a price of €17. WU donates all the proceeds from the face mask sales to the aid fund for students in need.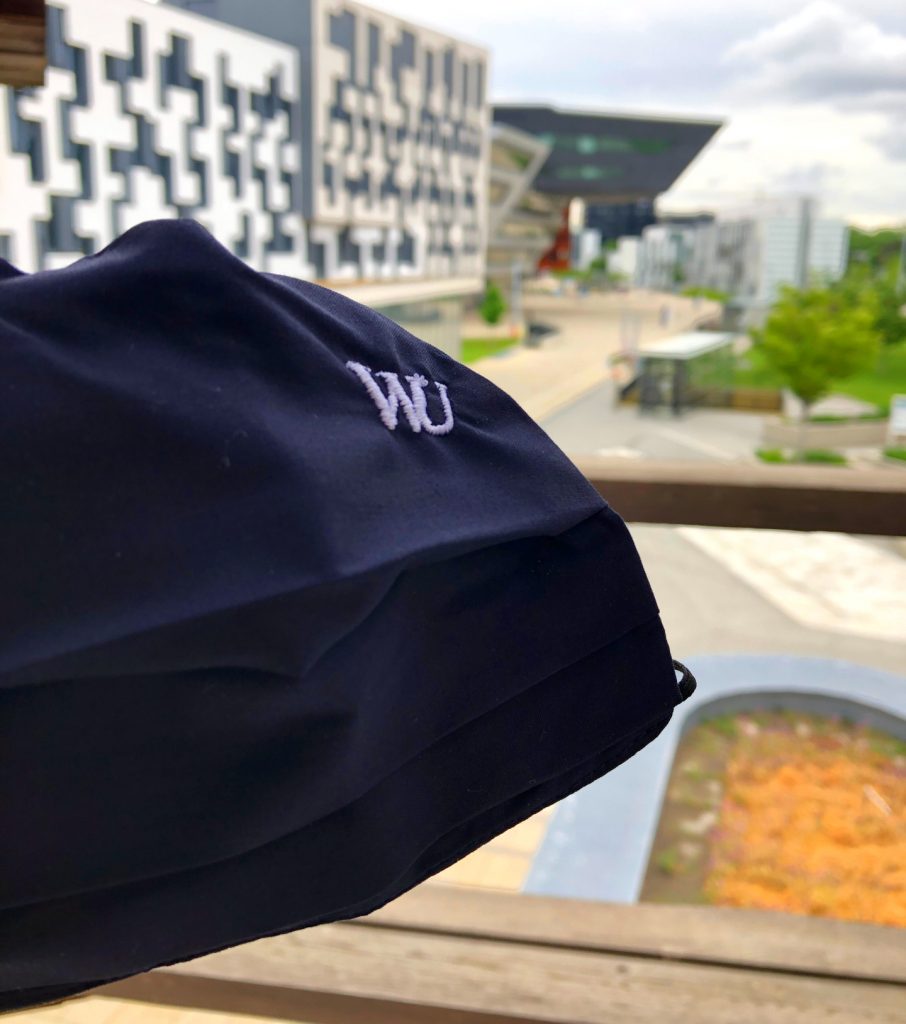 Let's all work together to curb the spread of the virus!
The face masks serve as physical barriers that prevent the spread of droplets (e.g. produced by coughing, sneezing, or breathing) and reduce the risk of transmitting the novel coronavirus.  The WU face masks do not classify as respirators within the meaning of the Austrian Medical Products Act (Medizinproduktegesetz). They are washable up to 90 °C and reusable. The WU face masks are made by hand in Salzburg by a WU alumnus and his associate.
The WU Shop
Due to the current situation, the WU Shop now only has reduced opening hours, and special requirements apply until further notice:
📅 Tuesday and Wednesday
🕙 From 10:00am to 3:00pm
👉 It is mandatory to wear a face mask or other protective covering over nose and mouth
👉 Please use the hand sanitizer dispensers when entering the shop
👉 Admission to the WU shop is restricted to 1 client at a time
👉 We currently only accept payment by card (bank card, credit card)