Campus WU: A Unique Project
Campus WU has been the home of Vienna University of Economics and Business since 2013. It is located in the immediate vicinity of Vienna's Prater park, it features buildings designed by high-profile international architects, and it offers an ideal infrastructure for teaching, studying, and research. Today, we'd like to take a look at what makes our campus so unique.
A space for social, cultural, and political life
The groundbreaking ceremony for WU's new, modern, and sustainable campus took place in 2009, on the open area between the Messe Wien exhibition grounds and the Prater park in Vienna's 2nd district, with 2 nearby subway stations providing excellent access to public transportation. Only 4 years later, WU moved from its old location, the Althanstraße university center (in operation since 1982), to its new home, Campus WU.
The address assigned to the new campus was "Welthandelsplatz 1" – a nod to WU's previous incarnation, the University of World Trade ("Hochschule für Welthandel" in German). The campus project was not only about constructing new buildings, it was also about giving physical form to new ideas of what a university of the future could look like.
The goal was to create a concrete realization of WU's vision of a modern university. Campus WU and its individual buildings have won a number of architecture awards, including the Schorsch Award presented by the City of Vienna, the RIBA European Award presented by the Royal Institute of British Architects, and the CICA urbanism award by the International Committee of Architectural Critics.
Facts & figures
7 buildings form a "city within the city" with a comprehensive infrastructure (supermarket, restaurants, athletic facilities, kindergarten, garages, bike parking spaces and garages, and much more).
The campus grounds are 560 meters long and up to 210 meters wide
Approx. 100,000 m2 of usable floor area; 55,000 m2 of publicly accessible open space
Approx. 150,000 m3 of concrete
Approx. 4,000 rooms (90 auditoriums and seminar rooms seating over 5,000 people in total)
Approx. 3,000 student workstations (1,500 in the Central Library)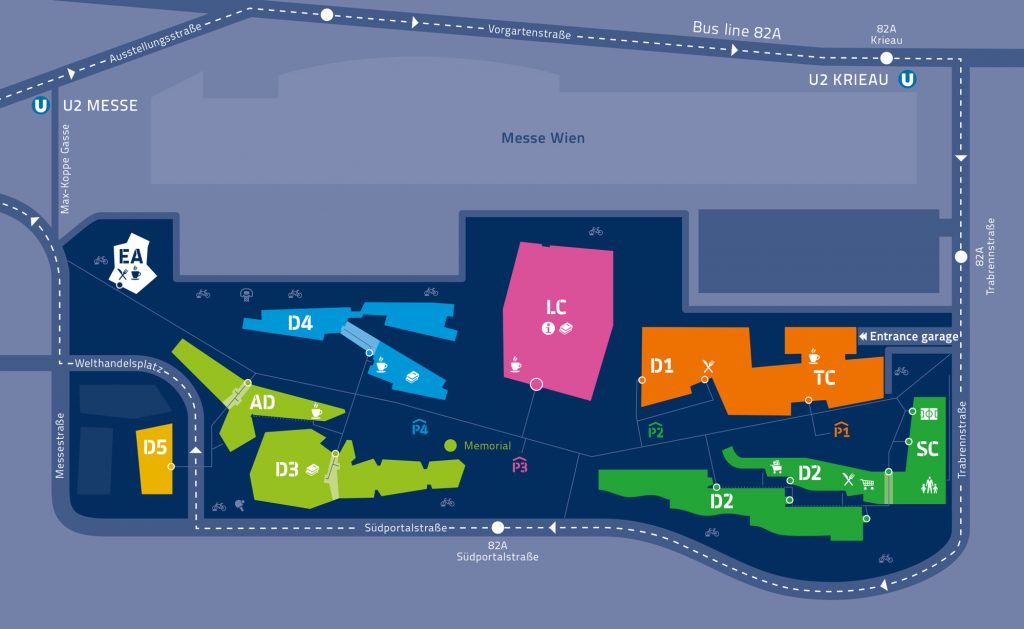 Library & Learning Center (LC)
The heart of Campus WU is the Library & Learning Center, designed by Iraqi-British star architect Zaha Hadid. The LC building is imposing, extraordinary, and unique. Its central location confirms that teaching and research are central to WU as an organization. If you look closely, you can see that the LC building consists of a light-colored and a dark-colored part. The light-colored part houses all student service units: Here students can complete all administrative steps, from admission and activation of their IT account all the way to graduation. The dark gray part (with the large glass front) houses the Central Library – Austria's largest business and economics library, with a collection of approx. 650,000 books.
On the ground floor, there are 2 Ceremonial Halls and the Forum (the large, open-space entrance hall), providing plenty of space for large-scale events.
Did you know? The huge, glass-fronted and cantilevered roof of the building is called a "monitor." It offers spectacular views of Prater park, which makes the lounges and study areas in the monitor hugely popular with students.
Teaching Center & Department 1 Building (TC/D1)
The Teaching Center houses most of WU's auditoriums and serves as an important meeting place and communicative hub for faculty and students. The building offers space for about 5,000 people and is home to most of WU's auditoriums and seminar rooms, including the Audimax, WU's largest auditorium, seating 650 students. The TC building is connected to the D1 department building. The Mensa cafeteria is located right between these two adjacent buildings. It has a large roof garden – an ideal spot to relax and enjoy the sun.
Did you know? The façade is made of maintenance-free Corten steel, which will slowly change color as it weathers over the years.
Department Building 2 & Student Center (D2/SC)
This building houses a number of departments and institutes, a restaurant, a bookstore, the Campus supermarket, the WU kindergarten, student organization offices, and the USI athletics center. This building was designed by a Japanese architect. Its gracefully curved sections are intended to serve as a harmonious point of transition between campus and the Prater and Krieau park areas. The exterior design is inspired by French mille-feuille pastry, which is made from multiple layers of puff pastry.
Did you know? The distance between the building units is calculated to allow for a maximum of natural light in the interior.
Department Building 3 & Administration (D3/AD)
This two-part building complex catches the eye with its colorful exterior and unique façade. Untreated silver fir planks are mounted to the buildings to create a visual reference to nature and the trees of the neighboring Prater park (and provide sun protection). The complex includes numerous passages, niches, terraces, atriums, and open spaces with benches that give the building an inviting and dynamic atmosphere. The larger of the two buildings, D3, is home to WU's law departments and the Library for Law. The smaller building, called AD, houses conference rooms and many of WU's administrative units. This is where the office of our Rector is located.
Did you know? There are 5 beehives on the roof of the D3 building. The honey produced by WU's own bee colonies is on sale in the WU Shop.
Department Building 4 (D4)
This slender, elongated building with its lively tetris-pattern façade features a playful arrangement of geometric shapes, primarily based on parallelograms. Folding aluminum shutters provide protection from direct sunlight and give the façade an ever-changing appearance. This building houses a library too – WU's Library for Social Sciences.
Did you know? The elements of the façade are painted in slightly different colors (many people don't notice this at first sight) to set the different parts off from each other visually.
Department Building 5 (D5)
The D5 department building belongs to a 3-part complex opened in September 2015 that complements Campus WU. It includes a total of 5 seminar rooms, each seating up to 60 students, and a large auditorium that seats over 160 people. Aside from WU, the complex – also known as the "Messestraße Campus" – also houses the Sigmund Freud University and a student residence hall.
Did you know? The D5 building is the most recent WU building, but it won't be the last. This coming fall, a new building will be inaugurated in the immediate vicinity of Campus WU to provide additional space for administrative units and WU researchers.
WU Executive Academy (EA)
This imposing 7-story tower is a striking landmark that greets visitors at the west entrance of Campus WU. The outer façade is made of glass and aluminum and reflects the sky and the surrounding greenery. The top levels offer spectacular views of Vienna's city center and the nearby Prater park. Mono-material design principles (keeping the number of different materials to a minimum) were used in designing the building's interior. Floors, wall paneling, and lighting elements throughout the building reflect this uniform design approach.
Did you know? All offices in the EA building are designed as open-plan office spaces.
Open spaces, green campus
Campus WU was designed to be a place that brings people together. Visitors and area residents are more than welcome. The campus has something to offer for everyone – from restaurants and various athletic facilities to open spaces that encourage communication and the exchange of ideas.
3 main entrances and numerous passageways
6 square-like areas with different seating installations
Lawns, water features, and several roof gardens
Basketball court and table tennis tables – right next to Prater park
231 gingko trees that mark the perimeter of the campus
Sustainability – including economical, ecological, and social aspects – was a main priority in the planning and construction of Campus WU. All buildings are certified according to "Blue Building" standards, and much of the required energy is obtained using geothermal energy from groundwater. Campus WU is the first fully climate-neutral university campus in Austria.
WU also carries out a number of additional environmental projects, for example active waste prevention and the Green Buddies initiative, living up to its role as a responsible university. This commitment is confirmed by the annual certification of WU's environmental management activities under EMAS (Eco-Management and Audit Scheme) and ISO 14001 standards.
Contest: We're giving away 5 copies of "Campus WU"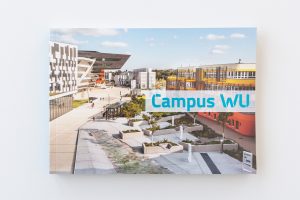 Find out more about the construction of Campus WU, its masterful architecture, and the design concepts used. The "Campus WU" booklet offers a look behind the scenes and gives insights into little-known facts. We're giving away 5 copies.
Answer this question and win your personal copy: When did Campus WU open its doors?
Email your answer to: socialmedia@wu.ac.at
Submission deadline: Thursday, July 30, 2020
Please be sure to include your full name and address (the booklets will be sent to the winners by mail).
View the full terms and conditions for this contest.
Good luck & see you soon on Campus WU!
By the way, the booklet is also available in the WU Shop (in the LC building, open weekdays 10am–3pm).
Further links and information