10 Tips for your stay in Vienna (Part 2/3)
Welcome back to Part 2 of our advance guided tour of Vienna. We hope that you're already excited about your trip! In this part, we will give you some extra packing tips, talk about some recreational and athletic options, and about Vienna's famous Christmas markets.
4. Weather and dress code
When you hear the phrase "Welcome to Vienna" in the fall, it also means welcome to the wind and welcome to a grey November – but of course with shiny, happy people!
Your packing list should definitely include a warm jacket, some cozy socks, and an umbrella. The temperature in November is usually between 5 and 11° Celsius (40 – 50° Fahrenheit), frequently accompanied by rain. Survival tip: the "onion look." That means wearing different layers of clothes in order to be prepared for the cold weather outside and also for the heated rooms and cafés inside. Especially if you plan on wearing heels for the ceremony or the party, you might consider bringing a pair of boots and unpacking the heels as soon as you get inside.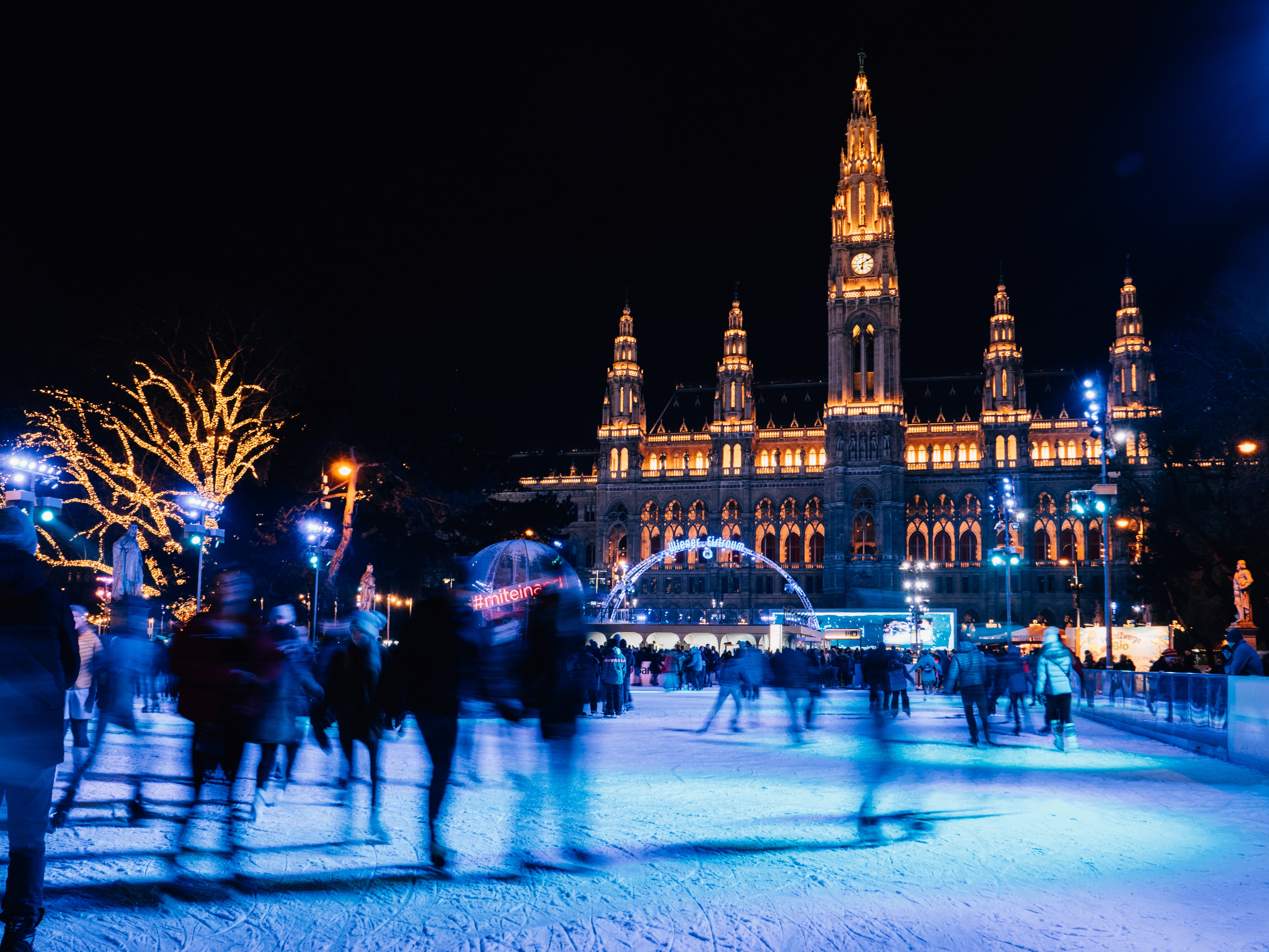 5. Sports and recreation
When it comes to free time, you need to know that Vienna is a city of coffee houses. You will find a lot of traditional places, but also some really good modern, third wave coffee houses where you can enjoy a good cup of joe.
Traditional Viennese cafés:
Café Central: There's often a line to get in, so plan accordingly.
Café Hawelka: This coffee house is so traditional, they only offer a German website, but you can look at the pictures to get a feel for the place – just be sure to try the marmelade-filled "Buchteln" (oven-baked dumplings) – they're only served after 8 p.m.!
Cafe Landtmann: Traditional Viennese coffee house located directly at the Ringstraße.
Modern cafés:
If you feel like a little exercise after all that cake and coffee and you're lucky enough to have a sunny day, you should take a nice walk around the palace grounds at Schloss Schönbrunn or go directly to the neighboring zoo: Tierpark Schönbrunn, it is one of the oldest zoos still in operation and is also a UNESCO world heritage site.
Sports
Open air workouts (free): There are several street workout parks in Vienna. To name just a few: Street Workout Roßauerlände (in the 9th district), Street Workout Park Donauinsel (in the 22nd district), Sportplatz am roten Berg (in the 13th district)
Ice-skating (Around €8 admission and €7.50 for skate rental): Probably the most beautiful place to ice skate in Vienna (and in general) is the Wiener Eistraum in front of City Hall. With 3,000m2 of ice, they offer a place for beginners to practice and also a beautiful track through decorated Christmas trees to start getting into the holiday spirit. If you want the holiday spirit without the ice-skating, you can also enjoy a cup of mulled wine or punch (a hot, fruity drink available with or without alcohol) right next to the rink and just watch other people skate.
Gym (Around €10, sometimes free): If you want to visit a fitness center during your stay, you can try to find a Fitinn, where you can get a one-day pass for €10, or sign up for a free trial workout at McFit or CleverFit.
Swimming/Spa: To have a swim or just relax during your time in the city, two thermal spas are conveniently located in or near Vienna:
1) The Therme Wien costs about €20.50/3h and is close to the city center. It can be reached directly from the subway station Oberlaa.
2) Alternatively, there is the spa Therme Laa, which costs about €19.50/3h) – it's a little further away but also worth a visit!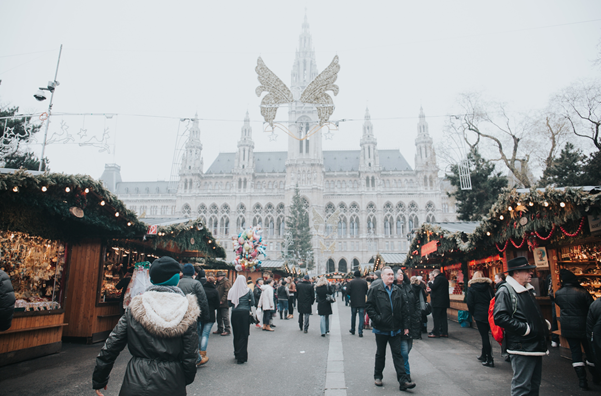 6. Christkindl Markt (Christmas markets)
Christkindl markets are a famous tradition in Austria: Here, Austrians gather to get into the holiday spirit and celebrate Christmas. Traditional offerings include toys, decorations, hand-carved nativity figures, and other gifts – but you will also find a lot of places that offer hot mulled wine and punch.
As mentioned above, the Rathausplatz in front of City Hall is a great place to meet up with friends and fellow CEMSies and to enjoy a hot drink. The market at Spittelberg is also beautiful, but a little bit smaller.  Wander a maze of narrow, beautifully decorated streets with a cup of mulled wine, or visit one of the many cozy places to enjoy a cup of hot chocolate or some food. The famous Karlsplatz market also has a great winter holiday vibe, as well as a selection of traditional wooden handicrafts for sale. Lastly, some of the palaces also set up Christmas markets on the palace grounds, like Schloss Schönbrunn. This gives you the opportunity to visit two very Viennese things at the same time: the Christkindl market and the stately imperial palace.
You want more?
In Part 3 we will welcome you back with the best places to eat and drink, some must-see sights, and of course a bit about night life in Vienna!