10 Tips for your stay in Vienna (Part 1/3)
Dear CEMSies, soon you'll be in Vienna for your graduation ceremony! Last week, we provided you with some helpful inside tips on travelling to Vienna. And as promised, in this and next week's articles you will get some useful information about how to spend your free time in Vienna! The world's most liveable city offers a lot of attractive sights, places to chat about Viennese weather, great food and drinks, and of course many cultural highlights and a spirited nightlife!
1. Hotspots in Vienna (aka embrace being a tourist!)
The first district is the heart of Vienna and also of Austrian culture. In this inner district, you will find the most popular Viennese tourist attractions, such as St. Stephen's Cathedral and the State Opera (where the famous "Wiener Opera Ball" takes place every February), and can also get in a little shopping: Check out Kärntnerstraße (with many shopping opportunities) and the "golden quarter" around Graben (a more exclusive shopping area including luxury labels like Chanel, Burberry, Louis Vuitton, and more). Right on the intersection between Kohlmarkt and Graben, you'll find the traditional gourmet supermarket Julius Meinl: besides excellent Viennese coffee, the famous store offers a wide variety of specialties from all around the world, including Mozartkugeln, of course. (Speaking of Mozartkugeln: The ones I would recommend are "Original Salzburger Mozartkugeln," in the silver and blue package).
After walking down Kohlmarkt, you will see the Hofburg palace, which includes the world-famous Spanish Riding School (watch out for the white Lippizzan horses!) and the Sisi-Museum (more on that in future blog posts). Alright, keep going, and you'll find yourself in front of the next building worth seeing, the Neue Burg (new palace). On then to the neighboring Volksgarten park and the beautiful Austrian Parliament (which is unfortunately under construction at the moment). If that is still not enough, you can complete your tour by visiting City Hall (with a great ice skating rink out front in the winter) or continue walking to the Burgtheater. Visit the website of the Vienna Tourist Board for more info on Viennese sights!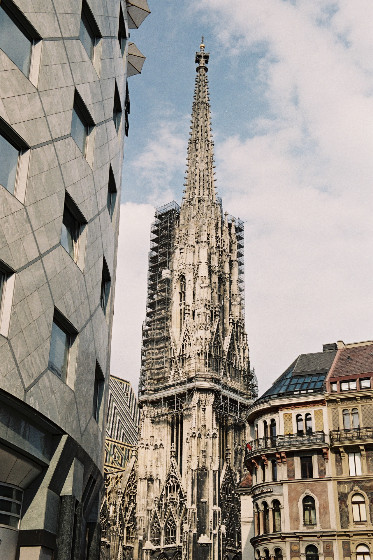 2. Get around Vienna
The public transportation system Wiener Linien is the best way to explore the city – plus, finding parking spots can be a bit tricky (especially in the inner districts). If you are planning to travel to Vienna by car, you should check out park + ride possibilities, as the costs per day are less than €4 (which is a lot cheaper than street parking). Another thing you should know about the public transportation system is that on weeknights, subways and streetcars only run until approx. 12:30am. After that, a system of night buses will bring you home safely. On weekends (Friday and Saturday), the subways run all night in 15-minute intervals.
Costs for public transportation tickets may vary, depending on the option you choose:
A single, one-way trip costs €2.80
An all-day pass costs €5.80
Three-day passes are available for €17.10
One-week passes go for €17.10 (Only available for the period from Mon-Sun)
There are a number of additional options available, so make sure to check out the best possible options for you.
Useful apps during your stay: You might want to download the ÖBB Scotty App and the WienMobil App – each one of these will help you find the best combination of subways, streetcars, and buses to get from Point A to Point  B (depending on whether you're staying in Vienna directly or slightly outside the city).
3. Campus WU and CEMS-Parties
When visiting Campus WU for the CEMS meetings and conferences during your stay, we definitely recommend taking a good look around! Campus WU itself is a masterpiece of outstanding modern architecture from several prominent architects like Zaha Hadid (and a tourist attraction in its own right, as well). Check out this free audio guide and be sure to explore the campus between conferences!
You might want to keep in mind (and as you may know from your studies) that we CEMSies love to party! 😉 So don't forget to sign up for the Student & Alumni Party on November 29 and the CEMS Graduation Party on November 30! And if you just need the dates for your calendar, we have an overview for you here:
Student & Alumni Party
Friday, November 29, 2019
10:00pm to 2:00am (next day)
Location: Ottakringer Brauerei
Tickets cost € 30 for graduates/students and €40 for guests
CEMS Graduation Party
Saturday, November 30, 2019
10:30pm to 4:00am (next day)
Location: Marx Halle
Tickets cost € 30 for graduates/students and €40 for guests
That's it for today – be sure to check back for further blog posts, which will include tips on your evening attire (hint: baby, it's cold outside!), recreational and athletic activities, and much more! Stay tuned!