Preparing the next generation of entrepreneurs
In January, John Mullins from London Business School came to Vienna for the third consecutive time to hold a lecture in "Entrepreneurial Finance" for WU's Master Program Strategy, Innovation and Management Control (SIMC) students. This class is a special experience, as it is based on real-life cases that teach us how to successfully found, fund & grow a business.
Who is John Mullins?
After his MBA, John worked in the US retail industry and built two startups, one failed and one he took public. After 20 years in retail, he decided to start his second career and become a professor. John has been a Professor at the London Business School for more than 18 years now, where he teaches his broad knowledge in entrepreneurship to MBA students. Since becoming an entrepreneurship professor, he has published five books, dozens of cases, and over 50 articles in a variety of outlets.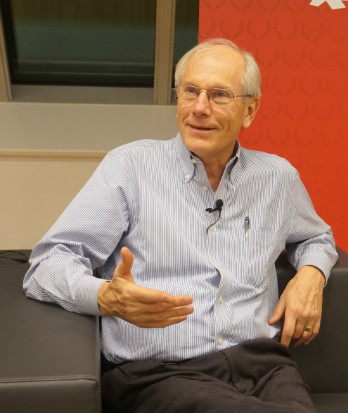 Different approach to Entrepreneurial Finance
As John was only here for one week, the Entrepreneurial Finance class was filled into an intense week, with two sessions per day. For each session, a case had to be prepared by the students, along with a couple of readings that comprised the theoretical background necessary to crack the cases. Preparing the cases was a challenging experience because they were not only demanding content wise, but also because we were not used to the case method approach. Even though we spent long nights in preparation, the work with challenging real-life cases definitely paid off.
In each session, we spent hours discussing every little detail of the cases and John supported us to bring in each possible perspective. This was especially important to him, as it is essential to understand both sides of the deal to reach a consensus in investment situations. This broad perspective also makes this course very special, as most other entrepreneurial finance courses are taught by investors who only bring one perspective. Going through the cases, it stopped feeling like a finance exercise, but more like reading an exciting book where you're dying to know what happens. The great thing about the real-life cases was that we could analyze how the companies developed over the years and observe why they are what they are today.
 "SIMC students are very interested in innovation and many are eager to become entrepreneurs. These are the people who are going to make a real difference, who create jobs in the world and make economies grow (…). I have the next generation of entrepreneurs with me in the SIMC classroom every time I come, it's fantastic!"
We were really inspired by this fascinating course and John Mullins has certainly fostered our appetite to start a business ourselves one day!
Become part of the SIMC program!
The Master in Strategy, Innovation, and Management Control at WU Vienna prepares tomorrow's executives for their role as organizational leaders. The program combines theory, practice, and instruction in relevant social skills, for an integrated approach to organizational leadership. Great emphasis is placed on developing the ability to identify new entrepreneurial opportunities and, based on that ability, creating strategies for achieving sustained success.
Do you also want to become a successful entrepreneur in the future? Become part of the SIMC Master Program and acquire the necessary skills you need! Make use of the final application deadline on March 8, 2019. Find more information here and check out the video to see why you should study at WU.