Brno: The unnoticed high-tech hub
The second field trip of the Master Class CEE 2018/19 led us to Brno and Prague, the two top business hubs in the Czech Republic. Purpose of this trip was twofold: a fact finding mission for our research project "New Growth Models for CEE" and experiencing the two cities as a group.
Before our visit, most of us had not realized that Brno is the home of a strong high-tech-cluster. At JIC, the South Moravian Innovation Center, we learned that several local heroes such as YSoft or Kiwi.com come from Brno. We had the chance to meet Václav Muchna and Martin de Martini, the two founders of YSOFT. Never heard about it? This is the tech-company that introduced the extremely widespread printing-management-software SafeQ. Go and check out the printers in your office! You will find out, that, by chance, also you are using their services regularly.
Absinth, bridges, clock towers, D1 – following the Czech alphabet
Next up was the bus trip to Prague. We drove the infamous D1 highway connecting Brno with Prague and made it luckily in a record time of 2.5 hours, avoiding most of the traffic jams and delays that drivers typically experience on this route. We used the evening to explore the city on our own. We went for dinner, walked on the Charles Bridge (at night the view is incredible) and then ended up in a bar – or were it three? Absinth tasting might have contributed to weak memory.
One of the highlights was our visit to AVAST, the biggest European player for personal anti-virus applications. The chief of staff held a very inspiring talk with detailed insights into the different market challenges AVAST is facing globally. If you would like to work in a nice office with table soccer, table tennis, darts, room for live-music and indoor golf, you really should apply there. We ended the visit at the control room, which was overcrowded with screens that show in real-time global malware attacks. After watching this you understand even better the value of a good antivirus software.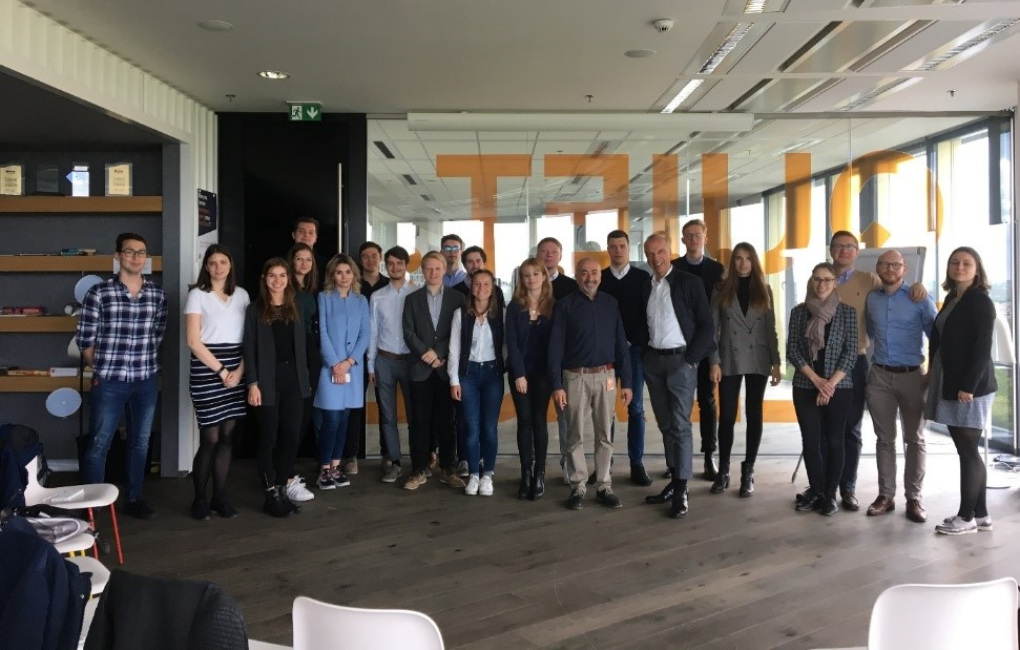 Our final visit led us to Hospodářské noviny, the Czech economic daily, and the Economia media house. There, the chief political analyst told us about their publications, the Czech media scene – which oligarch owns which media group – and the challenges to print media today. Fake news, the role of Twitter and Facebook and the co-existence of print and online channels dominated our discussion. The tour of the newsroom with working places for 400 journalists was impressive and astonishingly silent.
To conclude, we had an incredible time with extremely deep insights and astonishing experiences – thank you Brno and Prague. Thanks to all who helped making this trip a success – our hosts, the MC CEE team Prof. Arnold Schuh and Kerstin Kvapil and our corporate sponsors.
Be part of the next Master Class!
Apply now for the Master Class CEE by October 17, 2019 for the 2-semester supplementary program focusing on the area of management and business in CEE. If you have a vivid interest in Central & Eastern Europe and you want to gain relevant qualifications for a career in CEE please send your application by October 17, 2019 to kerstin.kvapil@wu.ac.at. Get to know more info here.